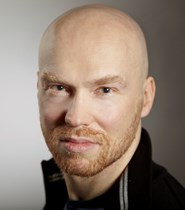 Karl-Fredrik Norrback
Kontakt
Verksam vid
23, våning 5, Psykiatriska kliniken
Umeå universitet, Psykiatri, 901 85 Umeå
Bakgrund
Jag är född 1972. Jag erhöll min doktorsgrad i Medicin vid Umeå Universitet, institutionen för Medicinsk Biovetenskap med avhandlingen "Telomeres and telomerase in normal and malignant hematopoietic cells" år 2000. Jag erhöll min läkarexamen 2004, Umeå Universitet, och har forskat sedan dess vid institutionen för Klinisk Vetenskap, Psykiatri. Jag blev docent inom ämnet Experimentell Psykiatri år 2013.
Samarbetspartners
Min främsta samarbetspartner är Professor Rolf Adolfsson (Psykiatri enheten). Andra viktiga samarbetspartners hittills har varit; Professor Göran Roos (Umeå universitet), Professor Lars-Göran Nilsson (Stockholm Universitet) and Professor Jurgen Del-Favero (Antwerp University).
Tre av mina forskningsområden
1. Telomer Biologi
Telomerer är repetitiva DNA-sekvenser på kromosomernas ändar och forskning på telomerer fick Nobel-priset 2009. Telomererna tros påverka åldrandeprocessen och de kan ge information kring den biologiska åldern. Mest nyligt, så har jag undersökt biomarkörvärdet av telomerlängden avseende hjärnans funktion och struktur. Se även doktorsavhandlingen " Telomeres and the brain" (2011) av Mikael Wikgren (jag var huvudhandledare).
2. Orsaker och effekter av stress och stress-dysreglering.
Denhär forskningen har som fokus att försöka förstå orsakerna och effekterna av stress och stress-dysreglering i allmänbefolkningen samt hos personer med affektiva tillstånd. Vi har intresserat oss extra mycket för ett av kroppens mest centrala stress-coping system; HPA-axeln som reglerar utsöndringen av kortisol. Se även doktorsavhandlingen "Hypocortisolism in recurrent affective disorders" av Martin Maripuu (jag var huvudhandledare).
3. Psykosomatik
Ett psykosomatiskt tillstånd som vi studerar är IBS som uppvisar komorbiditet med affektiva tillstånd, inflammation och stress. Patofysiologin beträffande IBS är dock till stor del okänd. Vi studerar även kronisk smärta som många lider av och ofta utan att vården lyckas identifiera orsakerna bakom. Vi undersöker vilka roller som stress- och stämnings-dysreglering har för etiologin samt för hur tillstånden uttrycker sig. Se även doktorsavhandlingen "The emotional motor system and gastrointestinal symptoms" (2008), av Pontus Karling (jag var bihandledare).
Undervisning
Jag har undervisat inom många olika ämnen vid Umeå Universitet inom följande universitetsprogram: läkar-, tandläkar-, psykoterapi-, biomedicin-, logopedi-, miljö och hälsoskydds-programmen. Jag har även undervisat, handlett doktorander sedan 2005.