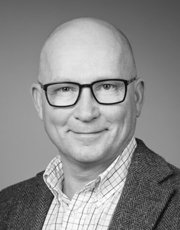 Per Bergling
Professor Per Bergling (LL.M., LL.D.) pursues reserch and teaching at the Department of Law.
Kontakt
Verksam vid
Samhällsvetarhuset, Plan 5, Umeå universitet
Umeå universitet, 901 87 Umeå
Background
Professor Per Bergling (LL.M., LL.D.) pursues reserch and teaching at the Department of Law at Umeå University in Sweden. Prior to this, he served as Senior Advisor on International Law at the Swedish Ministry for Foreign Affairs, where he provided counsel to the Minister of Foreign Affairs and other senior officials on matters of international law and foreign policy, particularly in the areas of rule of law, transitional justice, constitutional law, and matters related to the Holocaust and the prevention of mass atrocities, in addition to acting as the Swedish Focal Point for the Responsibility to Protect. Between 2010 and 2012, Bergling was the Principal Legal Advisor at the Folke Bernadotte Academy - the Swedish government agency for peace, security, and development – where he led the Rule of Law program, liaised with regional and international partners, and served as a member of the Expert Advisory Group for the Viking Military and Multifunctional Peacekeeping Exercises. In 1999-2001, Bergling served as the Rule of Law Advisor to the High Representative in Bosnia and Herzegovina.
Teaching
Bergling's teaching with the Umeå University and other universities in Sweden and internationally spanns International Law, Human Rights Law, Constitutional Law, the Rule of Law, Genocide and Atrocity Prevention and related fields. In addition, Bergling is also an expert instructor on matters related to peace and state-building, rule of law promotion, and atrocity prevention at several professional training institutes.
Research
Bergling's research is focused on the relationship between International Law, politics and security and development policy, and has resulted in a number of internationally available publications and reports. Currently, Bergling leads or works within the following projects:
Rule of Law at the International, Regional and National Levels: this project is conducted together with colleagues from Uppsala University and focuses on how the Rule of Law is understood as a principle and policy area at the respective levels, and how the levels influence each other in terms of norms, definitions and applications.
Governments and the Difficult Truth: this project deals with how states and governments chose to categorize mass atrocities and other serious violations of human rights, as well as the domestic and international legal and political implications of such categorizations.
Transitional Justice During and After Violent Conflict: this recent project will focus on the feasibility and effectiveness of various Transitional Justice measures and functions in the hitherto little studied context of violent conflict and state fragility.
In 2003-2004, Dr. Bergling was the Garvey Schubert & Barer Visiting Professor in Asian Comparative Law at the University of Washington's School of Law. In 1995, Bergling was Visting Scholar at the University of California at Berkeley, School of Law.
Forskargrupper
Gruppmedlem
Forskningsprojekt
1 oktober 2018 till 30 september 2021