Be a Buddy – meet international students at home
Meet new people from all around the world through Umeå University's Buddy Programme! We are looking for students who like to meet new people and who want to make international students feel at home in Umeå.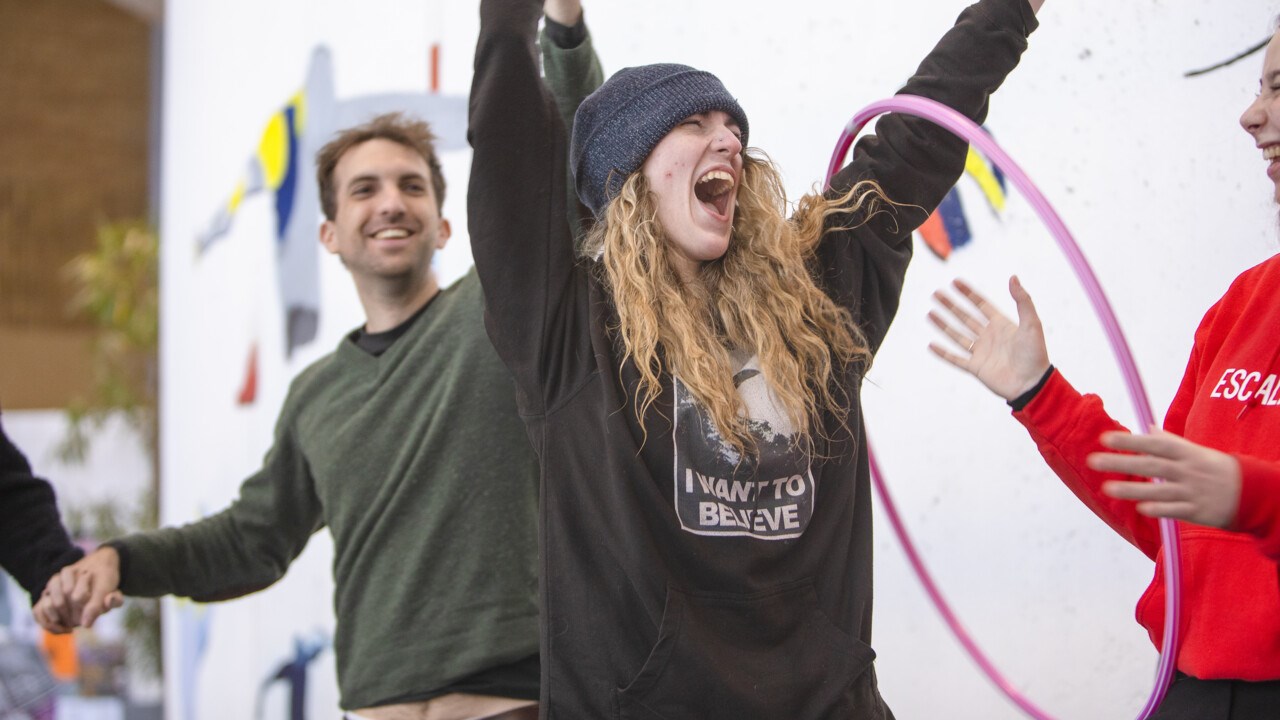 Buddy Programme at Umeå University kicks off Spring term 2020 with new international students, outdoor activities and challenges and fun throughout.
Image
Mattias Pettersson
This is the Buddy Programme
The Buddy Programme is a community at Umeå University that introduces international students to Sweden and helps them to settle in Umeå. The programme organises events and gatherings where international and established students can hang out.
Frequently asked questions about the Buddy Programme
What does a Buddy do?
As a Buddy you play an important role in the international students' overall experience of Sweden, Umeå and Umeå University. You will be one of the first contacts that international students have with Umeå students.
As a Buddy you have two main roles:
Answering questions about student life
You will answer a lot of practical questions about how to buy a bicycle, how to use the public transportation system, where the nearest grocery store is, etc.
Organising and participating in social activities
Each group leader is responsible for coordinating the group's activities but as Buddy you are involved in planning and organising your Buddy groups activities.
Examples of social activities
Each Buddy group decide and arrange their own activities but here are some examples of common activities:
Cooking
Going to the cinema
Skiing
Having a fika
When does the Buddy Programme start?
The Buddy Programme starts at the beginning of the semester and lasts through the semester. The beginning of the semester may be a bit intense with several activities organised by the International Student Coordinator, but it's the group's commitment that determines how often you get together.
The Buddy Programme is ongoing throughout the term, but there is a lot happening during the first weeks which makes it particularly important that you, as a Buddy, can be active in the initial activities as well as throughout the term.
What are the benefits of being a buddy?
Besides being a great deal of fun, there are many other benefits to being a Buddy:
You get to meet new people from other cultures.
You have the chance to make friends for life but you also have the chance to learn invaluable knowledge about other cultures.
New contacts all over the world.
Having contacts abroad can be a help for those who want to study abroad, who want to visit another country or for anyone interested in a career outside of Sweden.
You improve your language skills.
You have a chance to deepen your knowledge in other languages!
You can help other students to feel at home.
Helping other students with your knowledge of the university and student life is truly a good feeling.
If you want to apply for an exchange place, being a Buddy can be a merit.
If you have been an active Buddy you will receive a certificate from the International Office. For more information, contact the International Student Coordinator.
How is the Buddy Programme organised?
The International Student Coordinator coordinates the Buddy Programme and organises activities for all the Buddy groups. The International Student Coordinator is employed by Umeå University and works with the program during an academic year.
As a group leader, you are the closest contact to the International Student Coordinator and you are responsible for coordinating the Buddy group's own activities.
As a Buddy, you plan and participate in activities, and support your buddy group.
All students in the Buddy Programme are divided into so-called Buddy groups. The groups consist of two group leaders, 8-10 established students and 30-40 international students.
Sign up to be a Buddy
To become a Buddy for international students, you need to submit an application. In the application you enter your contact information, what you are studying and past experiences with the Buddy Programme. You can also choose if you're interested in being a group leader or a Buddy.
Sign up as soon as possible so you don't miss out on the fun!
Sign up to become a Buddy (form is in Swedish)
Contact information
Contact the International Student Coordinator by email: buddy@umu.se
Follow our Facebook page for the latest information on our activities and events: Buddy Program Umeå University