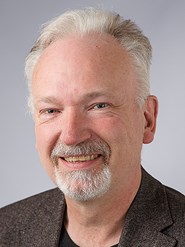 Anders Behndig
Jag är professor i Oftalmiatrik och prefekt för Institutionen för klinisk vetenskap. Jag undervisar på läkarprogrammet, forskar om keratokonus samt på data från Nationella Kataraktregistret.
Kontakt
Verksam vid
by 3C, 1 tr, korridor AB11, Ögonkliniken
Umeå universitet, Klinisk vetenskap/Oftalmiatrik, 901 85 Umeå
Jag blev specialist i ögonsjukdomar 1993 och är sedan 2000 överläkare vid ögonkliniken, NUS, Umeå. Min akademiska bana i korthet är att jag disputerade 2001 på en avhandling som var ett samarbete mellan Oftalmiatrik och Klinisk Kemi. 2004 blev jag docent i Oftalmiatrik och sedan 2010 professor. 2017 tillträdde jag som prefekt för Institutionen för klinisk vetenskap, som innefattar 9 olika ämnen med klinisk forskning och undervisning.
Inom undervisningen föreläser jag på läkarprogrammets 9:e termin om konjunktiva, ögonlock, tårvägar, ögonskador, hornhinna och lins. Jag håller också i klinisk undervisning i undersökningsteknik, caseundervisning och seminarier, och handleder regelbundet studenter på termin 10 i deras projektarbeten. Därutöver deltar jag i en del andra examinationer och undervisningmoment på läkarprogrammet.
Jag har suttit i Nationella Kataraktregistrets styrgrupp sedan 2008 och är registerhållare med huvudansvar för registrets verksamhet sedan 2017. Jag har ett förflutet i Sveriges Ögonläkarförenings styrelse, där jag var ordförande 2010-2012. Jag sitter i styrelsen för Acta Ophthalmologica sedan 2008 och är även co-editor. Jag sitter i styrelsen för European Society of Cataract and Refractive Surgeons sedan 2016. Slutligen är jag vetenskapligt råd inom ämnet Ögonsjukdomar åt Socialstyrelsen sedan 2012 och är extern expert åt Inspektionen för Vård och Omsorg.
Min forskning har två huvudspår, dels handlar det om hornhinnesjukdomen keratokonus, dels forskar jag på data från Nationella Kataraktregistret, där jag är registerhållare.

Klinisk forskning kring hornhinnesjukdomen keratokonus och myopi (närsynthet)
Keratokonus drabbar c:a 1/1000 och leder till förtunning och toppighet i hornhinnan med uttalade brytningsfel och nedsatt syn. Obehandlad leder sjukdomen till en livslångt försämrad synkvalitet med stor påverkan på livskvalitet och viktiga saker i livet som t.ex. yrkesval. Sjukdomen brukar börja i tonåren, och behandlingen hittills har bestått av starka glasögon, speciella kontaktlinser eller hornhinnetransplantation. Man kan numer också sedan ett tiotal år tillbaka behandla med crosslinking (CXL), där hornhinnan förstärks med B-vitaminet riboflavin och ultraviolett ljus, vilket stoppar sjukdomens förlopp. Vid mer avancerad keratokonus är vanlig CXL otillräcklig i många fall, varför jag forskar kring och utvecklar en ny variant av CXL, PiXL, där man belyser olika delar av hornhinnan olika mycket, vilket jag kunnat visa ger minskade brytningsfel och förbättrad synkvalitet. En intressant aspekt på CXL-behandlingar såsom PiXL är att man även ser en omformning av hornhinnan efter behandlingen. Efter en CXL-behandling får hornhinnan en flackare krökning (blir "plattare"), vilket optiskt sett är samma effekt som uppnås med en laserbehandling för närsynthet, där hornhinnan laserslipas för att få en flackare krökning. Förändringen av hornhinnans brytning kan kontrolleras och styras genom att vissa delar av hornhinnan belyses medan andra delar lämnas obehandlade. Mina studier har visat att PiXL kan användas framgångsrikt för behandling av låggradig närsynthet, och att resultaten är reproducerbara och stabila över tid.
Registerbaserad forskning kring kataraktkirurgi
Grå starr (katarakt) är en grumling av ögats lins och drabbar framför allt den äldre befolkningen. I Sverige utförs numera över 130 000 kataraktoperationer per år, vilket gör operationen till sjukvårdens vanligaste ingrepp. Ingreppet genomförs som regel polikliniskt i lokalbedövning. Drygt hälften av kirurgin utförs idag vid privata kliniker som kar kontrakt med den offentliga vården. Resultaten är överlag goda, och kostnaden för ett enskilt ingrepp ligger kring 10 000 kr. Nationella Kataraktregistret (NCR), som har sin fysiska placering på Blekingesjukhuset i Karlskrona, startade sin verksamhet den 1 januari 1992. Drygt 70 opererande kliniker har årligen rapporterat in till registret under de 27 verksamhetsåren, och registret täcker över 95 % av alla kataraktoperationer utförda i Sverige sedan 1992. Totalt finns nu över 2 miljoner ingrepp registrerade in NCR. Detta gör NCR till ett helt världsunikt register; ingen motsvarighet till denna databas över kataraktkirurgi finns någon annanstans i världen. Grundstommen i kataraktregistret är ett basregister som registrerar demografi, väntetider och synfunktion vid tiden för kataraktoperation. Sedan 1994 har registret lagt till ett utfallsregister som registrerar operationsutfall under mars månad varje år. Vidare registreras den subjektiva patientnyttan av ingreppet sedan 1995 via en Rasch-validerad enkät, Catquest 9SF. Närmare 150 000 ingrepp har utfallsregistrerats, och kompletta utfallsdata finns i registret för c:a 130 000 ingrepp. Kvaliteten på ingående data i NCR har validerats vid flera tillfällen, och har visats vara god. Jag är sedan 2008 med i registrets styrgrupp och är registerhållare sedan 2017. Registret bedriver omfattande forskning och är det största källan till vetenskaplig produktion inom detta område i Sverige.
Handledarskap och övriga uppdrag
Jag har publicerat ett stort antal vetenskapliga artiklar, har handlett två doktorander till disputation (Björn Lundberg 2008 och Eva Olofsson 2009), och är för närvarande handledare för två doktorander, Gunnie Bäckström och Anneli Fredriksson. Jag anlitas ofta som fakultetsopponent och betygsnämdsledamot i Sverige och andra nordiska länder, ansvarar för kurser och seminarier och anlitas som inbjuden föreläsare vid nationella och internationella vetenskapliga konferenser.
Jag tjänar som reviewer av artiklar på regelbunden basis för t.ex. Acta Ophthalmologica (där jag även är associate editor sedan 2007 och co-editor sedan 2011), Ophthalmology, Journal och Cataract and Refractive Surgery och flera andra tidskrifter.
Forskningsprojekt
24 april 2014 till 31 december 2021