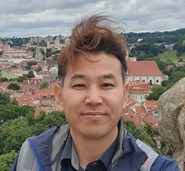 Eunil Seo
Mina specifika intressen är relaterade till data, tjänster och människors anslutning med hjälp av ML och molnteknik.
Kontakt
Verksam vid
Naturvetarhuset, Umeå universitet, NAT.B1.213
Umeå universitet, 901 87 Umeå
Eunil Seo received a B.S. degree from the Department of Information Engineering at Sungkyunkwan University, an M.S. degree from the Department of Computer Science at the University of Southern California (USC), and a Ph.D. degree from the Department of Electrical and Computer Engineering at Sungkyunkwan University in 1998, 2002, and 2019, respectively.
Over 16 years, he had a cross-functional career in the industry as a research staff in the Mobile I.P., IPv6, User-Centered Network, Ad-hoc and sensor network for Samsung Advanced Institute of Technology (SAIT), a member in Network W.G. of ZigBee Alliance, a chair in RIA WG of OMG, and a project manager for the several control related projects of International Thermonuclear Experimental Reactor (ITER).
Currently, he is a post-doc fellow in Computer science from Umea University. His research interests are data, services, and human beings' connectivity using ML and cloud technologies.
Forskargrupper
Gruppmedlem