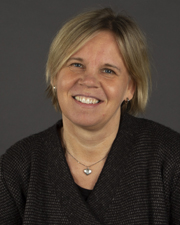 Ethel Kautto
I am a registered dietitian and PhD.
Contact
Works at
Lärarutbildningshuset, Plan 4, Lärarutbildningshuset
Umeå universitet, 901 87 Umeå
I teach both basic - and advanced courses taught at the Department of Food and Nutrition. On topics, such as diet and health, dietetics, gender, diet and health communication, nutrition sociology, etc. I am also a tutor and examiner for thesis in nutrition science.
I began teaching at the Department of Food and Nutrition, autumn 2003. My graduate studies started in 2009, funded by a partnership between the department of Food and Nutrition and Umeå Centre for Gender Studies. I defended my thesis in March 2014. My thesis was about the different aspects of what it is like to live with a diagnosis of celiac disease, studied from; a gender perspective; and how diet are affected after a young individual are diagnosed with celiac disease by screening and how the diet in the gluten-free diet will be compared to the normal diet for same age young people without celiac disease. The title of my thesis was: Is it the gluten-free diet that matters the most, food, gender and celiac disease.
Together with Jonas Burén and Anna Sjödin I want to explore how individuals perceive how it is to follow different types of diets.
Along with Josefin Brodin, we planned the course models (2015): Communication in clinical work in the Dietetics program. An area that I personally find very interesting. The teaching is based primarily on the MI-oriented communication for dietitians.
To avoid seeing food only as a source of nutrition is in my interest. What meaning has food and meals for us in a social context and how does it contributes to our identity are examples of interesting questions that I carry with me.
Research groups
Group member