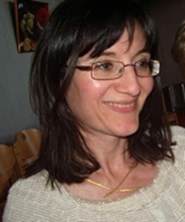 Nafsika Alexiadou
I am a professor in Educational Work at Umeå University with a research orientation in education policy and comparative studies.
Works at
Naturvetarhuset plan 4, huskropp NB, Johan Bures väg 16
Umeå universitet, 90187 Umeå
I am Professor of Educational Work in the Department of Applied Educational Science. I completed my doctorate degree as a Rhodes Scholar at the University of Oxford, in 1999, after originally training as a primary school teacher in the Dimokritio University in Greece. I worked in the Universities of Keele (UK), and University of Macedonia (Greece) before coming to Sweden.
My research is concerned with the analysis of education policy at national and transnational levels, and in comparative studies:
Education policy and governance in the European Union, its relationship with national policies & the Open Method of Coordination
Education policy, inclusion and equality, in national and transnational contexts
Higher education policies and internationalization
Marketisation and privatization of education - their contexts, processes and consequences
Current projects
2018-2021: Internationalising Higher Education: Challenges and opportunities for Universities and academics in Sweden (Vetenskapsrådet, Projektledare)
2019-01-01 till 2021-12-31: Going global: Swedish school companies and their international operations (Vetenskaprådet. Project leader: Linda Rönnberg)
2017-2019: Education transitions of Roma students in Sweden and Europe: Success against the odds (Umeå School of Education)
Completed projects
2015-2017: Higher Education Internationalisation and Mobility (Horizon 2020. The EU Programme for Research and innovation Marie Skłodowska-Curie Actions Research and Innovation Staff Exchange. Project leader: Louise Morley)
2012-2015: Inclusive and Competitive? Working in the intersection between social inclusion and marketisation in upper secondary school. (Vetenskapsrådet. Project leader: Ulf Lundström)
Doctorate supervisions
Johanna Sundström – field of 'early childhood education and care'
Maria Lindgren – field of 'health and education policy in leisure time centres'
Completed doctorate supervisions
Anders Norberg - From 'blended learning' to learning onlife, Umeå University, 2017
Trang Vu - Logics and politics of professionalism: the case of university English language teachers in Vietnam, (Second supervisor) Umeå University, 2017
Phil Rigby – Becoming a secondary English teacher: Men constructing professional identities, Keele University (UK), 2014
Ron Sargent – Design and Technology: disjuncture between policy and practice?, Keele University (UK), 2014
Matthew Cochrane - Pupils' choices in their educational and career trajectories, Keele University (UK), 2014
Wynne Thomas – Competency Based Curriculum: The Student Nurses' Perspective, Keele University (UK), 2011
Jackie Waterfield – Post-registration learning in physiotherapy: Practice and Policy, Keele University (UK), 2006
Teaching
Introduction to the Educational Sciences (Introduktion till det utbildningsvetenskapliga fältet) PhD course, 7.5 credits
Theories in Education Research (Teorier i utbildningsvetenskaplig forskning), PhD course, 7,5 credits
Education Policy and Practice in International Perspectives, Grundnivå/Magister, 7.5 hp
Other activities
Since 2012, I am co-Editor of the journal Education Inquiry, an International, Peer-Reviewed, Open Access journal, published by the School of Education, Umeå University. I am also in the editorial board of two international journals: Research in Comparative and International Education, and Research in Education.
Since July 2018, I am responsible for the research area of Early Childhood Education and Care, and Leisure Time Centers.