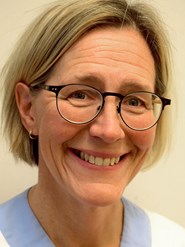 Katarina Olofsson
Translationell forskningslinje inom cancervirus i övre luftväg samt luftvägsförträngning. Tre examinerade doktorander från 2016. Fyra pågående projekt
Kontakt
Umeå universitet, Klinisk vetenskap, 901 85 Umeå
Verksam vid
Presentation
Jag är anställd vid Region Västerbotten som överläkare och adjungerad lektor/docent 20 % av arbetstiden utgörs av forskning, kvalitetsutveckling och undervisning. Jag undervisar/handleder vid framför allt läkar-, logoped-, och omvårdnads programmen samt i vetenskapliga arbeten vid ST utbildning. Den kliniska tiden är fördelad mellan mottagning och operation och relaterad till luftvägspatologi. Jag driver en translationell forskningslinje om cancervirus i övre luftväg samt luftvägsförträngning. I vår forskningsgrupp finns laborativ kompetens, klinisk kompetens inom virologi, patologi, öron-, näs och halssjukdomar, samt statistik att tillgå. Vi är representerade på 2 utbildningsnoder inom norra regionen och samverkar med samtliga universitetssjukhus såväl kliniskt som forskningsmässigt
Dåtid
I oktober 2016 försvarade Christos Loizou sin avhandling; Human papillomavirus in recurrent respiratory papillomatosis, tonsillar and mobile tongue cancer. I maj 2019 presenterade Anna Holm sin avhandling Human papillomavirus in sino-nasal inverted papilloma, recurrent respiratory papilloma and non-malignant tonsils. I maj 2020 genomförde doktorand, Alexandra Schindele (registrerad i april 2018, UmU) sitt mittseminarium, med beräknad disputation november 2022, The role of human papilloma virus and Epstein-Barr-virus in upper airway mucosa. Jag biträder Mimmi Werner som handledare för Eleonor Koro doktorand, registrerad i november 2019, med registreringstitel Prevalance of oncogenic viruses and evaluation of diagnostics in chronic otitis. I en tidigare forskningslinje om djup hjärnstimulering och sväljning, var jag handledare för M. Sc Stina Sundstedt, i hennes licentiat (2014) och doktorsavhandling (2017), Swallowing function in patients with Parkinson's disease and Deep Brain Stimulation.

Framtid
Planerad doktorandregistrering av Anders Erlandsson, Upper airway stenosis - in relation to surgical technique, causation and impact on quality of life. Arbete nr 4 kommer även att fungera som uppsats inom ramen för medicinska fakultetens vetenskapliga arbete, UmU; Martin Lundahl, rapport Q2 2021.
• Studie I, retrospektiv-observation-tvärsnitt, Airway stenosis - mapping long-term outcomes of endoscopic surgical techniques -case series in northern tertiary academic center.
• Studie II, prospektiv-observation-longitudinell-deskriptiv, Health related quality of life in airway stenosis.
• Studie III, prospektiv-observation-tvärsnitt-deskriptiv, Expression of oncogene virus in idiopathic subglottic stenosis.
• Studie IV, retrospektiv-observation-tvärsnitt, Cause of upper airway narrowing

Inom ämnet öron-, näs och hals sjukdomar bistår jag Mimmi Werner som handledare för Elenor Lundgren, registrerad 2020-09-15 med titel "An audiological and quality of life evaluation, with an active bone conducting implant, after exposure to a sound trauma or aminoglycosides and among children with auditory neuropathy spectrum disorder ".
Jag biträder Alexandra Schindele i ett vetenskapligt ST-projekt av Sofie Kraft, inom forskningsområdet 2020-2021.

Betydelse
Vi vill studera cancerrelaterade virus i övre luftväg (III) eftersom att: (1) det kan förebyggas genom nuvarande HPV vaccin, (2) vaccin kan användas vid behandling (3) de kroniskt behandlingskrävande HPV relaterade sjukdomarna i luftväg är kostsamma för patienter, familjer och sjukvård (4) vårdgivarna måste skydda sig på rätt sätt. Resultatet av endoskopisk ballongdilatation (2010-2019) mot Co2-laser (2000-2009) kommer att användas direkt i sjukvård som riktlinjer och i patientinformation (I). För att minimera tolkningsproblemet i objektiv utvärdering, har vi valt två livskvalitetsformulär att tillämpa före och efter ballong-operation (II). Vi antar att den vanligaste orsaken till luftvägsförträngning ligger i stämbanden och är av godartad natur om så inte är fallet påverka det fokus på luftvägsdiagnostik och behandling men även vår undervisningsprofil (IV). Det är intressant att veta om Region Västerbotten uppvisar likvärda resultat som nationella och internationella data anger. Det tillämpliga förväntade resultatet är viktigt eftersom det finns en tydlig och konkret process för att överföra vetenskapliga resultat till klinisk praxis.