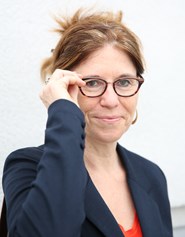 Charlotte Häger
My research addresses human motor control, how the brain controls movements and how to understand different types of movements in normal conditions and after injury/disease to guide treatment.
Works at
Umeå universitet, 901 87 Umeå
Click here for a short videopresentation of our research
Research: My research field is human sensorimotor control, i.e., how the brain controls our muscles as efficiently as possible by means of the sensory and motor systems. Through studies of normal motor development in children and of movement control in healthy persons, we can build theories for how human movements are controlled by the brain and identify which factors that are essential to our movement ability. Such theories and methods will help us to understand the mechanisms behind pain or movement problems due to lesions or illness. This will optimize movement training and rehabilitation. My research addresses both hand and arm control but also involves studies of balance, gait and coordination in general. I work with studies in children and adults, in health as well as with various movement disorders such as cerebral palsy, spinal cord injury, knee pain and injuriesneuropathy, stroke etc. The methodology involves kinematic movement analysis, force measurements and recordings of electromyographic activity in the muscles in our movement laboratory U-motion lab, but also surveys or clinical tests. The studies also include evaluation of outcome measures and clinical intervention in for instance neck patients and children with movement disorders. My research group is formed by multiple disciplines such as biomedical engineers, statisticians, orthopedic surgeons, physiologists, radiologists, occupational therapists, psychologists and more. National and international collaboration involve for instance, Karolinska Institute, Stockholm, Gothenburg university, and University of Miami, FL and University of Virginia, USA; University of Ulster, UK; University of Otago samt University of Waikato, New Zealand; University of Milano, Italy; och University of Tel Aviv, Israel. For ongoing projects, see below.
My research is supported among others by the Swedish Scientific Research Council, the Swedish Research Council for Sports Science (CIF), Umeå University, Umeå School of Sports Sciences, Västerbottens County Council, Lundbergs research foundation, the Swedish Brain Foundation (Hjärnfonden), Promobilia and mo.
Multiple-disciplinary research group
Helena Grip, Associate professor, Engineer, Biomedical engineering
Lina Schelin, PhD, Senior lecturer, Statistics
Anna Cronström, Phd, Reg physiotherapist, Post-doc
Eva Tengman, PhD, Reg physiotherapist
Ashokan Arumugam, PhD, Reg physiotherapist
Anna-Maria Johansson, PhD, MScPsychology, Post doc
Jonas Markström, PhD, Post-doc
Andrew Strong, BSc Sports biomechanics, PhD Student
Heidi Nedergård, MSc, Reg physiotherapist, PhD Student
Johan Strandberg, Phd Student, Statistics
Adfam Grinberg, PhD Student, Physiotherapist
Jonas Selling, Research engineer
Jenny Grinberg, Reg physiotherapist, Research assistent
Guest professor: Dario Liebermann, University of Tel Aviv, Israel
Projects
Academic exams: Registered physiotherapist 1984, Bachelor in Physiotherapy 1987, PhD in Neurophysiology, Dept of Physiology, Umeå university, 1995. Associate professor 2003, Professor 2009.
University employment: Professor
Teaching and assignments: I teach at the Medical faculty at the undergraduate level and the Doctoral level, and mostly in Physiotherapy
Commissions and trusts
Member of the faculty board of medicine 2005-2011 and vice chairman of the Research board at the medical faculty 2008-2011. Chairman of the programme committee for Occupational therapy and Physiotherapy Educations 1998-2005. Member of the Regional Ethical Review Board 2004 - 2009
Appointed Chair of the committee responsible for the scientific programme of the World Confederation in Physical Therapy, WCPT in Geneva 2019 (World Congress in Physical Therapy).
Research groups
Group member