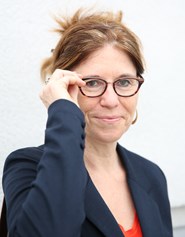 Charlotte Häger
Forskningen rör människans rörelseförmåga och hur hjärnan styr rörelser samt hur vi kan bäst kan förstå olika slags rörelsekontroll normalt eller efter sjukdom/skada för att rikta behandling.
Kontakt
Verksam vid
Umeå universitet, 901 87 Umeå
U-Motion Laboratory Research Group
Klicka här för en kort filmpresentation om vår forskning.
Artikel ur tidningen Fysioterapi, som är den ledande tidningen för landets fysioterapeuter
Forskning och forskargrupp
Min forskningsinriktning är människans sensorimotoriska kontroll och speciellt i relation till hur denna påverkas vid olika skador eller sjukdomar. Sensorimotorisk kontroll innebär att hjärnan med hjälp av olika sensoriska och motoriska system kan aktivera våra muskler och därigenom styra våra rörelser på ett så effektivt och bra sätt som möjligt. Genom studier av normal motorisk utveckling hos barn samt av generella principer för rörelsekontroll hos friska personer kan vi utveckla teorier för hur våra rörelser styrs och vilka faktorer som påverkar rörelseförmågan, något som fortfarande till stora delar är okänt. Dessa teorier och metoder hjälper oss också i förståelsen av vad som brister vid skador och sjukdomar. Först därefter kan man försöka optimera rörelseträning vid nedsättningar i rörelseförmågan vid olika diagnoser. I min forskning har jag initialt fokuserat på människans unika hand- och armmotorik men senare även andra typer av rörelsekontroll såsom gång och balans- och koordinationsuppgifter. Vår interdisciplinära forskargrupp arbetar med studier av både barn och vuxna, såväl friska som personer med olika rörelseproblem. Vi studerar bl.a. konsekvenser av och sätt att utvärdera funktion och rehabilitering efter knäproblem som t.ex. främre korsbandsskada vilket är vanligt inom idrott, men även rörelseförmågan och rehabiliteringsinsatser vid diagnoser såsom stroke, ryggmärgsskada, nack- och ryggproblem m.m. Forskargruppen arbetar mycket med utveckling av mätmetoder som är en viktig del vid utvärdering av behandling och träning.
Metodik som vi använder omfattar bl.a. experimentella rörelseanalyser med kamerasystem och kraftmätningar av olika slag i vårt rörelseanalyslab U-motion lab. I samarbete med Umeå centre for Functional Brain Imaging (UFBI) undersöker vi röreselförmågan simultant med hjärnaktivitet med hjälp av samtidig registrering med magnetkamera och rörelsekameror..
Ett aktuellt projekt är Korsbandsskada i knät – varför får man det, hur ska det behandlas och hur går det senare i livet?
Här undersöker vi rörelseförmågan och knäfunktion hos personer som fått en korsbandsskada i ett projekt bl.a. finansierat av Vetenskapsrådet, Centrum för idrottsforskning (CIF) och Idrottshögskolan vid Umeå universitet. Projektet sker i samarbete med framför allt ortopeder, radiologer och ingenjörer.
I ett annat pågående projekt undersöker vi Rörelsekontroll efter stroke - kliniska och laboratoriebaserade utfallsmått och i relation till funktionell hjärnavbildning. Projektet rör förutsättningarna för rörelsekontroll av både armar och ben (t.ex. gång) hos personer som drabbats av stroke.
I en multicenterstudie samarbetar vi med Karolinska Institutet och Göteborgs universitet kring utvärdering av gångträning för personer som har förlamats till följd av stroke där träningen sker med innovativ robotteknik sk. "exoskeletons" utvecklade i Japan. Projektet stöds bl.a. av Hjärnfonden, Promobilia och Strokeförbundet.s
Forskargruppen har internationellt samarbete bl.a. med University of Miami, FL och University of Virginia, USA; University of Ulster, UK; University of Otago samt University of Waikato, New Zealand; University of Milano, Italy; och University of Tel Aviv, Israel.
Forskargrupp
Helena Grip, Docent, Civilingenjör; Medicinsk teknik
Lina Schelin, Fil Dr, statistiker, universitetslektor
Anna Cronström, PhD, fysioterapeut, post-doc
Eva Tengman, PhD, fysioterapeut
Ashokan Arumugam, PhD, leg fysioterapeut
Jonas Markström, PhD, Post-doc
Andrew Strong, BSc Idrottsvetenskap, doktorand
Heidi Nedergård, MSc, fysioterapeut, doktorand
Johan Strandberg, statistiker, doktorand
Adam Grinberg, fysioterapeut, doktorand
Jonas Selling, civilingenjör, forskningsingenjör
Jenny Grinberg, fysioterapeut, forskningsassistent
Martin Björklund, docent, fysioterapeut
Gästforskare: Professor Dario Liebermann, Tel Aviv University, Israel
Projekt
2017-11-06
Korsbandsskada i knät - varför får man det, hur ska det behandlas och hur går det senare i livet?
Häger, Charlotte
2017-11-06
Rörelsekontroll efter stroke - kliniska och laboratoriebaserade utfallsmått och i relation till funktionell hjärnavbildning. Häger, Charlotte
Akademiska examina
Legitimerad fysioterapeut 1984, Medicine doktorsexamen i neurofysiologi, Umeå universitet 1995, Docent 2003.
Universitetstjänstgöring
Professor vid Enheten för fysioterapi, Umeå universitet förenad med anställning som fysioterapeut (tidigare yrkestitel sjukgymnast) vid Norrlands universitetssjukhus, Umeå, 2009.
Undervisning och uppdrag
Undervisning vid flertalet program på medicinska fakulteten men framför allt på Fysioterapeutprogrammet och i vidareutbildning av fysioterapeuter på magisternivå (D), i forskarutbildning, samt handledning av doktorander och post docs.
Ledamot i medicinska fakultetsnämnden 2005-2011 och vice ordförande i Forskningsnämnden 2008-2011. Ordförande i Programkommittén för Arbetsterapi- och Sjukgymnastutbildningarna 1998-2005. Suppleant i Regionala Etikprövningsnämnden, Umeå 2004-2009. Ledamot i Anställnings och docenturnämnden vid medicinska fakulteten 2017.
Internationellt uppdrag: Utsedd av Världsförbundet i Fysioterapi (World Confederation in Physical Therapy, WCPT) till ordförande i kommittén med ansvar för det vetenskapliga programmet på Världskongressen i Fysioterapi i Geneve 2019 (World Congress in Physical Therapy).
Forskargrupper
Gruppmedlem