Forskningsgrupp Pancreatic cancer research laboratory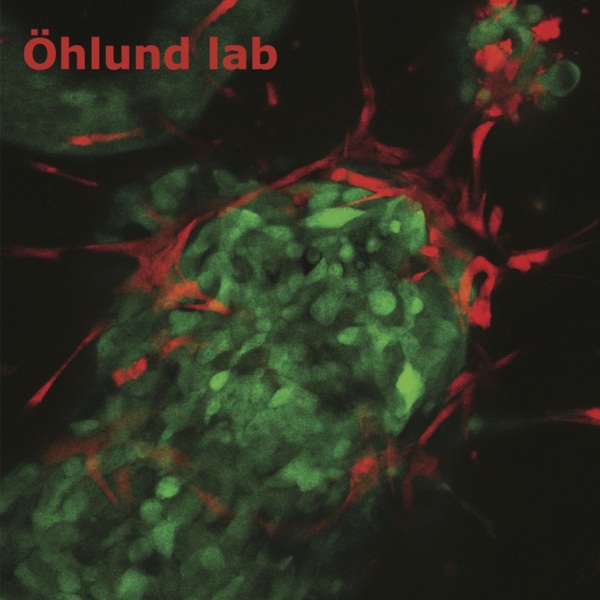 Research overview
Pancreatic cancer is resistant to available cancer therapies, which is reflected in a low 5-year survival rate of below 8 %.This indicate that novel strategies to tackle the disease are needed.
The pancreatic tumor is characterized by a pronounced tumor stroma that surrounds the cancer cells. This tumor stroma contains nerves, vasculature, immune cells, extracellular matrix proteins and cancer-associated fibroblasts, that all interacts with the cancer cells and provide the cancer cells with important signals that regulate cancer cell growth and survival, and contribute to therapy resistance.
The overall goal for the lab is to get a deeper understanding in the stromal heterogeneity, and to reveal and explore potential drugable targets hidden within the stroma.
We aim to determine which factors in the stroma that are important in regulating cancer cell growth, survival, immune escape, and drug resistance by using genetically engineered mouse models of pancreatic cancer and advanced 3-dimentional cell culture systems.
Furthermore, we are developing and testing drugs that inhibit the most important stromal interactions with the aim to discover new methods to treat the disease.
People and projects
Daniel Öhlund (PI)
M.D., Ph.D., Wallenberg Molecular Medicine Fellow and Wallenberg Clinical Fellow
Daniel has over 10 years of experience in pancreatic cancer research, and has a specific interest in the pancreatic microenvironment. He obtained his Ph.D. at Umeå University 2010, and 2012-2016 he worked as a post-doctoral fellow in David Tuveson's lab at Cold Spring Harbor Laboratory. The research has been focusing on finding diagnostic and prognostic biomarkers for pancreatic cancer derived from the stroma, and lately also to understand the role of the stroma in disease development. The overall aim in is to find methods to be able to diagnose the disease earlier and to develop new treatment strategies by attacking the microenvironment. Since 2017 he is group leader at the Wallenberg Centre for Molecular Medicine at Umeå University and a resident physician at the Cancer Centre at Umeå University Hospital.
Mitesh Dongre
Senior Research Engineer / Lab manager
Mitesh has experience in studying bacterial quorum sensing dependent pathogenesis in gastro-intestinal pathogens. Mitesh obtained his PhD in India where he did proteomic studies to understand molecular mechanisms of pathogenesis in Vibrio cholerae. During recent years his research focussed mainly on identification and characterisation of new toxin-secretion pathways in bacteria. In the Öhlund lab his main task is to understand significance of human microbiome, especially the gut microbiome, in the etiology of pancreatic cancer. Additionally, he is also analysing pathophysiological effects of secreted bacterial membrane vesicles for pancreatic cancers.
At the lab Mitesh is also operating as lab manager and is responsible for the organoid culture laboratory.
Charlotte Nordström
Lab technician / Animal colony manager
Charlotte is a laboratory technician and has worked at the Oncology Research Laboratory since 1997. In the Öhlund lab she is managing the animal colony and has developed the routines for the animal house. She is also assisting in various animal experiments. Furthermore, she is experienced in cell culturing, immunohistochemical staining, In Situ Hybridization (using the RNA scope technology), and different animal surgery procedures.
Cedric Patthey
Senior Research engineer
Cedric has his background in developmental biology. In the past he has studied cell fate specification, maturation, and cell type evolution with a focus on the neurons. He got increasingly interested in the use of bioinformatic tools, and he has optimized techniques for transcription profiling of cell types and is now delving into single cell transcriptomics.
In the Öhlund lab Cedric is focusing on the characterization of the cell type diversity of cells present in the stroma of pancreatic cancer. The aim is to decipher the molecular mechanisms involved in the interactions between cancer cells and stroma, with a focus on fibroblasts and the neurons innervating the pancreas.
James Mason
Post-doctoral fellow
James is a post-doctoral researcher from the UK. For his Ph.D., he studied human pluripotent stem cell heterogeneity using Raman Spectroscopy and cell population modelling techniques at the University of Sheffield. He began researching pancreatic cancer at the Wallenberg Centre for Molecular Medicine in Umeå in 2017. Presently James' primary projects involve conducting high throughput screens of small molecules to identify therapeutics in pancreatic cancer using in vitro organoid culture models as well as developing Raman spectroscopy to swiftly profile the disease in patients. Additionally, James studies tumour organoid metastatic potential, their susceptibility to ClyA toxin and quadruplex DNA dynamics.
Kumail Kumar Motiani
Post-doctoral fellow
Kumail completed his medical studies in Pakistan and started his PhD at the University of Turku. He has experience in studying internal organ metabolism using different radiological imaging modalities (PET, CT, MRI). In the Öhlund lab he will be responsible for developing radiotracers for early detection of pancreatic cancer. Additionally, he will be developing guidelines using different imaging modalities (CT, ultrasound) which will aid in diagnosis of both pancreatitis and pancreatic cancer. Kumail will also focus on radiotracers targeting the tumor stroma.
Paromita Kundu
Post-doctoral fellow
Paromita obtained her PhD in Biotechnology at the Institute of Life Sciences, India in 2018, where her research topic was "Nanotechnology based drug delivery system for neurodegenerative disorders". Her research aimed to develop nanotechnological devices for delivery of neurotherapeutics to the brain where she formulated lipid based nanoparticles for delivering dual drug and studied anti-parkinsonism effect of both drugs in a Parkinson Disease mouse model.
In September 2019, she joined the Öhlund lab and her current research is focused on Nerve tumour interaction and the role of Schwann cells in initiation and progression of pancreatic cancer.
Ankit Kumar Patel
Post-doctoral fellow
Ankit has previously, during his Ph.D.-studies, established primary culture cell lines of cancer associated fibroblasts (CAFs) from gingivobuccal oral cancer patients. He has studied their phenotypic and functional characteristics and reported that CAFs are heterogeneous stromal cell types with distinct gene expression profile. These heterogeneous CAFs interacts differently with oral cancer cells and significantly affect the tumor biology. In Daniel Öhlund's laboratory, he is studying the interaction of pancreatic CAFs in a co-culture system with pancreatic cancer organoids. He is studying the effect of chemotherapeutic drugs on the CAF-tumor organoid model system to delineate the druggable molecular pathways for better therapy.
Rahul Gaur
Post-doctoral fellow
Rahul did his doctoral research at the Indian Institute of Science in the field of RNA modifications and protein synthesis. Thereafter, he obtained the EMBO fellowship to study regulation of metabolism in C. elegans at Umeå. His other stints include studies on neurobiology at UCSD, maturation of Insulin (Sahlgrenska, Göteborg) and industrial research (Unilever).
At Öhlund lab, Rahul will study the adaptations that allow pancreatic cancer cells to secrete large amounts of proteins like mucins. Two main themes he wishes to explore are the relay of stress via different proteins in the endoplasmic reticulum and the mechanisms by which cancer cells obtain nutrients from the stroma. Some of these studies are supported by Cancerfonden i Norrland.
Rahul is also enrolled in the Medical School at Umeå to become a medical doctor. In his free time he enjoys photography.
Tommy Lidström
Ph.D.-student
Tommy is a former student of the Biomedicine program at Umeå University, he previously researched the effect of serotonin receptor 1A in B-cell lymphoma, before joining group Daniel Öhlund as a Ph.D. student. Tommy's current research involves characterizing interactions between the extracellular matrix (ECM) and cancer cells in pancreatic ductal adenocarcinoma (PDAC). Currently Tommy is involved in two projects, the first is investigating how different types of cancer associated fibroblasts (CAFs) are formed via signaling-interactions with cancer cells, the second involves investigating the function and biological relevance of up- and down-regulated ECM proteins in PDAC.
Joshua Cumming
Ph.D.-student
Joshua completed his Bachelor's and Master's degrees at the University of Manchester before working as a research assistant at the Manchester Collaborative Centre for Inflammation Research (MCCIR). His previous research used super-resolution microscopy to assess the nanometer-scale organization of inhibitory receptors in natural killer cells. Joshua's PhD project will focus on identifying and characterizing subpopulations of cancer associated fibroblasts (CAFs) in pancreatic cancer. Joshua will be investigating whether manipulating CAF subtype differentiation is a viable therapeutic strategy for pancreatic cancer.
Parniyan Maneshi
Ph.D.-student
Parniyan obtained her Master's degree in Biomedical Science at the University of Maastricht in the Netherlands after finishing her Bachelor's in the field of Biomechanics in Iran. She has experience in working with fibroblasts and 3D cell culture models. In her master's thesis, she worked on a Notch-inhibiting Hypoxia-activated prodrug (HAP) and studied its effect on treatment resistance in a lung cancer model. Parniyan joined the Öhlund lab in 2020 as an Early Stage Researcher (ESR) working within the PRECODE (PancREatic Cancer OrganoiDs rEsearch) International Network which aims to train a new generation of leading scientists in model systems and methods for the development of new therapies for pancreatic cancer. She is going to identify the extracellular matrix (ECM) components involved in tumor progression by analyzing the tumor-stromal interactions in the pancreatic cancer tumor microenvironment (TME). Moreover, she is going to study the response of cancer cells under tension and identify their coping mechanism. The aim is to get a deeper understanding of the functional diversity found in the ECM of pancreatic cancer.
Stina Lindblad
Ph.D.-student
Stina studied at the Medical Faculty of Umeå University and took her degree as a medical doctor in 2009. She has been working as a physician at the Cancer Centre at Umeå University Hospital since 2011 and is since 2018 as specialist in Oncology. Stina started her Ph.D.-studies in the fall of 2020 and her research involves clinical, biochemical and molecular markers in patients with pancreatic cancer. She will investigate different biomarkers and their correlation to radiological and clinical response of chemotherapy treatment.
Other students:
Marina Rubio Garcia
Master student
Noor Salah M. Alali
Master student
Former lab members:
Linda Ogol
Master student
(February 2020-February 2021)
Sepideh Farmand Azadeh
Master student
(September 2020-January 2021)
Tony Ullman
Bachelor thesis
(April-June 2020)
Carina Binder
Lab intern
(September 2019-May 2020)
Ismael Cem Nass Kebapcioglu
Master student
(April 2019-May 2020)
Yvonne Jonsson
Lab technician
(January 2017-January 2020)
Lee Ann Tjon-kon-fat
Project assistant (Post-doc)
(June 2019-September 2019)
Ismail Chergui
IFMSA student
(August 2019)
Silvia Remeseiro
Post-doctoral fellow
(April 2017-March 2019)
Sushmitha Sankarasubramanian
Master student
(April 2018 - January 2019)
Marcus Fredriksson Sundbom
Med. student, summer stipend
(June 2018 - August 2018)

Lucas de Barros Anastácio
IFMSA student
(June 2018)
Sofía Alejandra Moreira Lino
IFMSA student
(June 2018)
Rituparna De
Post-doctoral fellow
(April 2017-March 2018)
Fredrik Trulsson
Research project assistent
(September 2017 - December 2017)
Open positions in the lab
No positions are currently available. For questions regarding future positions, please contact Daniel (daniel.ohlund@umu.se). For questions regarding master thesis projects, please contact Mitesh (mitesh.dongre@umu.se).
Find the lab
We are located in the 6M building at the Umeå University hospital campus.
Entrance L31 (close to the Medical Library)
Support our research
Donations can be sent to the lab (through Cancerforskningsfonden i Norrland).
Bg: 684-4468
Pg: 68 44 46-8
(Mark the transaction: Öhlund)
Forskningsledare
Översikt