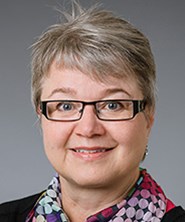 Margareta Persson
Jag arbetar som universitetslektor vid Institutionen för omvårdnad och är docent i Reproduktiv och perinatal hälsa.
Verksam vid
Biologihuset, Hus C, plan 3, 4 och 5. Hus D2, plan 3.
Umeå universitet, 901 87 Umeå
Som sjuksköterska har jag en bakgrund inom akutvården (10 år). Sedan 1990 har jag arbetat som barnmorska inom alla verksamheter inom den slutna kvinnosjukvården samt på barnmorskemottagning. Jag har arbetat som vikarierande lektor från disputationen och fram till 2011. Åren 2011 – 2014 hade jag ett lektorat med 50% forskning i tjänsten vid Högskolan Dalarna och sedan augusti 2014 har jag arbetat som universitetslektor på Umeå Universitet. Jag har även erfarenhet av undervisning och examination av lärare som arbetar med barnmorskeutbildning i Bangladesh inom ramen för ett internationellt projekt under 2018.
Jag disputerade på Umeå Universitet, Inst för klinisk vetenskap i december 2009 med en avhandling om graviditetsdiabetes. Jag har fortsatt att forska efter disputationen, huvudsakligen inom områden som rör kvinnohälsa och jag använder mig av såväl kvalitativa som kvantitativa metoder för forskningsfrågorna.
För närvarande är jag huvudhandledare för en doktorand och biträdande handledare för två doktorander. Jag har varit biträdande handledare till två doktorander som disputerade 2016 och även medarbetare/handledare av tre delarbeten i två andra doktorandprojekt. Jag har erfarenhet av nationella och internationella datainsamlingar.
Huvudsakliga områden med pågående forskning:
Jag forskar fortfarande till viss del inom området graviditetsdiabetes, men för närvarande i mindre omfattning.
SWE-TEAR – ett forskningssamarbete mellan forskare på Umeå Universitet och Linköpings universitet där vi med hjälp av registerdata studerar kvinnors hälsa och välbefinnande efter förlossningsbristningar.
OASIS Policies – ett forskningssamarbete med Umeå School of Gender studies där vi genom en policyanalys studerar hur de riktlinjer och rekommendationer som finns beträffande förlossningsbristningar är utformade och vilka underliggande antaganden och värderingar som ligger som grund för dokumenten. Inom ramen för projektet studeras också hur kvinnors situation, samliv och arbetsförmåga påverkas upp till 5 år efter en allvarligare förlossningsbristning. Jag är huvudhandledare till doktorand i projektet.
Kvinnors hälsa, välbefinnande och levnadsvanor efter obesitaskirurgi – här samarbetar jag med forskare på Karolinska Institutet och är biträdande handledare till en doktorand.
Childhood obesity: Prevention and web-based treatment interventions. Projektet är ett samarbete med forskare från Inst för klinisk vetenskap, Umeå universitet och syftar till att undersöka effektiviteten av web-baserad behandling av överviktiga barn. Jag är biträdande handledare till en doktorand i projektet.
Forskningsprojekt
8 september 2020 till 31 december 2027
1 april 2014 till 30 november 2016
Min undervisning sker främst inom olika kurser i barnmorskeprogrammet, men även till viss del inom olika specialistutbildningar på avancerad nivå. Jag deltar i institutionens betygskommittéarbete sedan flera år, vilket innebär granskning och bedömning av ett större antal studentarbeten varje termin. Vidare ingår jag sedan 2015 i institutionens programråd.
Utbildningsområde:
Barnmorskeprogrammet (kursansvarig för förlossningskurserna), graviditetsdiabetes, övervikt/fetma och dess konsekvenser för kvinnor i fertil ålder.