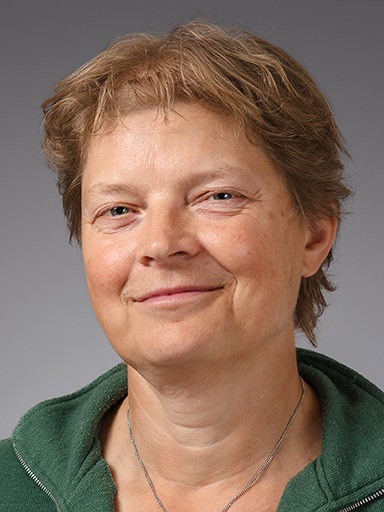 Agneta Hörnell
I'm a registered dietitian, have a licentiate and a doctorate in medicine and is professor in Food and Nutrition.
Works at
Lärarutbildningshuset, Plan 4, Lärarutbildningshuset
Umeå universitet, 901 87 Umeå
After getting my degree as a clinical dietitian in 1988 (Uppsala university), I worked one year as a dietitian before I was hired as a research assistant in a prospective, multicenter study on breastfeeding and fertility initiated by the World Health Organization (WHO). I used the data from the Swedish part of the project in my thesis, where I studied breastfeeding patterns of exclusively breastfed infants, the effects of pacifier or thumb-sucking, and how habituation to other foods came about.
Teaching
My teaching is focused on research methodology, supervising and examining thesis work on Bachelor and Master levels. I also teach about nutrition during pregnancy, breastfeeding and infant nutrition.
Research
Since my dissertation, my research has mainly focused on different aspects of children's and young people's eating habits and health, the school subject home and consumer studies, and school meals. I´m the principal investigator (PI) for the Nordic project ProMeal (Prospects for Promoting Health and Performance by School Meals in Nordic Countries) which focuses on the effects of school lunch on total food intake, learning and health.
In the autumn of 2017, I will start a new research project in collaboration with Sörmland County Council and colleagues at Umeå and Uppsala University. The research is interdisciplinary with expertise in nutrition science, health economics, gender studies and organizational research. The project aims to study the health effects, durability, cost effectiveness and organizational challenges in the introduction of a modern, flexible meal service in hospitals in Sörmland. The reform includes a new meal system and a new position, meal hosts, who will be responsible for the food and the food situation in the wards. The project will consist of four sub-projects studying the impact of the renewal, and represents a unique opportunity to conduct practice-oriented, cross-disciplinary research in the context of a profound renewal of the meal service in hospital. A first PhD student will start the project in autumn 2017 in cooperation with the Graduate School at Umeå Centre for Gender Studies. We´re at present applying for more funding for the project.
Collaboration
I´m a member of the Swedish National Food Administration's group of experts on nutrition and public health the Task Force of the Network in Epidemiology & Nutrition (NEON); and the scientific advisory board of the Swedish Association of Clinical Dietitians (DRF). I´m also representative of DRF in the National Breastfeeding Committee.
I was one of the many researchers participating in the revision of the latest Nordic Nutrition Recommendations (NNR 2012). I was chair of the expert group responsible for the advice for infants, children and adolescents.
I´ve been working for the European Federation of the Associations of Dietitian (EFAD) between 2010 and 2016, as chair for the Education and Lifelong Learning Committee and member of the Executive Committee. EFAD is a European association of national professional bodies for dietitians (three main fields being clinical, food service and public health). In October 2015, EFAD had 34 member associations, representing over 35 000 dietitians in 27 European countries. EFAD also has 35 Education Associate Members (including Umeå University), covering an additional two EU countries.
Research groups
Research projects
1 January 2018 until 31 December 2018