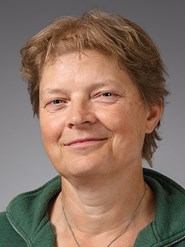 Agneta Hörnell
Jag är legitimerad dietist, har licentiat- och doktorsexamen i medicin, och blev professor 2011. Jag arbetar på institutionen sedan hösten 2000, var prefekt 2002-2010.
Kontakt
Verksam vid
Lärarutbildningshuset, Plan 4, Lärarutbildningshuset
Umeå universitet, 901 87 Umeå
Efter dietistexamen 1988 (Uppsala universitet) arbetade jag ett år som dietist innan jag blev anställd som forskningsassistent i en prospektiv, multicenterstudie angående amning och fertilitet initierad av Världshälsoorganisationen (WHO). Data från den svenska delen av det projektet använde jag sedan i mitt avhandlingsarbete, där jag studerade amningsmönster hos exklusivt ammade spädbarn, effekt av napp- och tumsugning, samt hur tillvänjningen till annan mat gick till.
Undervisning
Min undervisning är huvudsakligen inriktad på forskningsmetodik och handledning och examination av uppsatser på grund- och avancerad nivå. Jag undervisar också om kost under graviditet, amning samt spädbarnskost.
Forskning och forskarhandledning
Sedan disputationen har min forskning huvudsakligen varit inriktad på olika aspekter av barn och ungdomars matvanor och hälsa, hem- och konsumentkunskap i skolan, samt skolmåltider. Jag leder ett nordiskt samarbetsprojekt finaniserat av NordForsk som studerar skollunchens betydelse för kostens totala hälsosamhet, lärande och prestation i skola (ProMeal - Prospects for Promoting Health and Performance by School Meals in Nordic Countries)
Hösten 2017 kommer jag att starta ett nytt forskningsprojekt i samarbete med Sörmlands landsting och kollegor vid Umeå och Uppsala universitet. Forskargruppen är tvärvetenskaplig med kompetens inom kostvetenskap, hälsoekonomi, genusvetenskap och organisatorisk forskning. Projektet syftar till att studera hälsoeffekter, hållbarhet, kostnadseffektivitet och organisatoriska utmaningar vid införandet av en modern, flexibel måltidsservice på sjukhusen i Sörmland. Reformen inkluderar ett nytt måltidssystem och en ny funktion, måltidsvärdar, som ska ansvara för maten och måltidssituationen på avdelningarna. Projektet består av fyra delprojekt som studerar effekterna av förnyelsen, och utgör en unik möjlighet att genomföra praktikorienterad, tvärvetenskaplig forskning i samband med en genomgripande förnyelse av måltidsservice på sjukhus. En första doktorand kommer att starta i projektet hösten 2017 i samarbete med forskarskolan vid Umeå Center för Genusstudier. Vi söker för närvarande mer anslag för projektet.
Samverkan
Jag är ledamot i Livsmedelsverkets expertgrupp för nutrition och hälsa i det nutritionsepidemiologiska nätverket NEON:s arbetsgrupp och Dietisternas Riksförbunds (DRF:s) vetenskapliga råd. Jag representerar också DRF i Nationella Amningskommittén.
Jag var en av ett hundratal forskare som deltog i den senaste revideringen av de Nordiska Näringsrekommendationerna (NNR 2012). Jag ledde expertgruppen som ansvarade för råden till spädbarn, barn och ungdomar.
I många länder inkluderar begreppet dietist (dietitian) både clinical dietitians (dietister), food service dietitians (kostekonomer) och public health dietitians (kostvetare). Åren 2010-2016 var jag medlem av ledningsgruppen av European Federation of the Associations of Dietitians (EFAD) och ordförande i dess kommittee för utbildnings- och livslångt lärande. EFAD är en europeisk sammanslutning av nationella yrkesorganisationer för dietister/kostekonomer/kostvetare verksamma inom sjukvård, offentlig måltidsverksamhet och folkhälsoarbete. I oktober 2015 hade EFAD 34 medlemsorganisationer, som representerar över 35 000 dietister i 27 europeiska länder.
Forskargrupper
Gruppmedlem
Forskningsprojekt
1 januari 2018 till 31 december 2018
1 september 2017 till 30 maj 2023