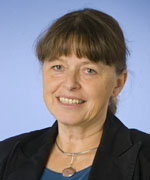 Lisbeth Lundahl
Professor i pedagogiskt arbete samt gästprofessor vid Åbo Universitet. Forskningen är främst inriktad på utbildningspolitik och ungas vägar och val i policy-, institutionellt och individperspektiv.
Kontakt
Verksam vid
Naturvetarhuset plan 4, huskropp NB, Johan Bures väg 16
Umeå universitet, 90187 Umeå
Professor i pedagogiskt arbete vid Umeå universitet sedan 2002, gästprofessor vid universitetet i Åbo sedan 2015. Min forskning rör främst områdena utbildningspolitik och skolmarknad samt ungdomspolitik och ungas vägar och val i policy-, institutionellt och individperspektiv. Miljöer för lärande i högre utbildning utgör ett tredje forskningsintresse. Jag har lett många forskningsprojekt, de flesta med medel från forskningsråden, och har också medverkat i ett flertal svenska och internationella projekt.
Jag leder det tvärdisciplinära forskningsprogrammet Utbildningspolicy och ungas övergångar (f.d. Ungas Utbildning, Karriärutveckling och Välfärd, UKV) som omfattar ett 20-tal seniora och juniora forskare. Jag är en av ledarna för det nordiska centre of excellence "Justice through Education in the Nordic Countries" (JustEd) www.justed.org, och leder ett nationellt forskarnätverk för karriärutveckling och vägledning (KAV) kav-net.se. Jag leder också en satsning för utveckling och forskning kring lärmiljöer vid Umeå universitet.
Jag har haft anställningar och ledningsuppdrag vid uni­ver­siteten i Lund och Umeå, dit jag flyttade 1987. Bland annat var jag vicerektor för Umeå universitet 2003-2008. Jag har varit ledamot i Socialvetenskapliga Forskningsrådet, Forskningsrådet för Arbetsliv och Socialvetenskap (FAS) och senast i Vetenskapsrå­dets utbildningsvetenskapliga kommitté. Jag var generalsekreterare för European Educa­tion­al Research Asso­ciation (EERA) 2005-2008 och är en av grundarna av Swedish Educa­tion­al Research Asso­ciation (SWERA, 2013).
Pågående forskningsprojekt som jag leder:
Att komma vidare. Unga på introduktionsprogram och stödet för att finna framtidsvägar i olika lokala kontext. Vetenskapsrådet, 2018-2021
Lära för karriärvalet. Forte 2016-2018
Rum för lärande. Umeå Universitet/Akademiska Hus, 2013-2017
Tidigare forskningsprojekt och forskarnätverk (ledda av mig):
Osäkra övergångar. Unga utan fullständig gymnasieutbildning: vägarna och åtgärderna i longitudinellt perspektiv. Vetenskapsrådet, 2010-2014.
Nationellt forskarnätverk Karriärval och vägledning. FAS, 2010-12, Forte 2015.
Nordiskt forskarnätverk NordCrit - Critical Nordic Research Network on Education, Welfare, Children and Young People. NordForsk, 2010-2012 (tills med A-L Arnesen, E Lahelma och E Öhrn)
Gymnasiet som marknad. Vetenskapsrådet, 2008-2010
Individen, vägarna, valen. Karriärval och vägledning i socialt, mångkulturellt och könsperspektiv, Vetenskapsrådet, 2005-2007.
Samiska frågor i lärarutbildningen resp. grundskolans läromedel. Jordbruksdepartementet, 2003-05.
Skola utan nationell timplan. Utbildningsdepartementet, Regeringens timplanedelegation, 2002-05.
Ungdomspolitik och ungas strategier. Mötet mellan ungdomar och nittiotalets kommunala ungdomsprojekt. SFR/FAS, 1998-2001.
SAFs och LOs utbildningspolitik 1944-1990. HSFR, 1992-1996.