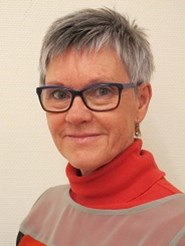 Anncristine Fjellman-Wiklund
Verksam vid
Umeå universitet, 901 87 Umeå


Akademiska examina
Docent i fysioterapi 2010, post-doktoral vistelse 2005/06, Texas Center for Music & Medicine, University College of Music, University of North Texas, Denton, Texas, USA. Medicine doktorsexamen, 2003, Sjukgymnastik, Umeå universitet. Specialistkompetens i sjukgymnastik inom ergonomi 2000. Magisterexamen i sjukgymnastik 1997. Basal Kroppskännedom terapeutisk kompetens 1995. Leg. Sjukgymnast 1976.
Undervisning
Undervisar på grundutbildningen vid Fysioterapeutprogrammet, ffa i termin 6 om psykosomatik, stress, KBT, mindfulness och långvarig smärta, I magister-/masterprogrammet i fysioterapi undervisar jag om kvalitativa metoder.
Klinisk erfarenhet
Fysioterapeut i sluten vård, primärvård och företagshälsovård. Ergonom vid Arbets- och Miljömedicinska kliniken, Norrlands Universitetssjukhus, Umeå.
Forskningsinriktning
Intresserad av ergonomi, stressrelaterad ohälsa och psykosomatik. Min forskning hör hemma inom området Musikmedicin och berör belastningsbesvär hos musiker. Mina studier syftar till att lyfta fram kunskap om god arbetsmiljö/ergonomi för musiklärare och musiker. Under senare år har jag breddat min forskning till att också inkludera genus.
Forskargrupper
Gruppmedlem
Forskningsprojekt
16 januari 2019 till 31 augusti 2019
1 februari 2011 till 12 januari 2018