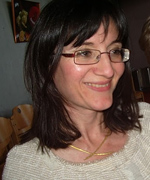 Nafsika Alexiadou
Professor i pedagogiskt arbete på Institutionen för tillämpad utbildningsvetenskap. Forskningen är inriktad på utbildningspolicy och i jämförande studier.
Verksam vid
Naturvetarhuset plan 4, huskropp NB, Johan Bures väg 16
Umeå universitet, 90187 Umeå
Jag är professor i pedagogiskt arbete vid Umeå universitet sedan 2013. Jag tog min doktorsexamen i utbildningsvetenskap vid Oxford University år 1999, och hade innan dess genomgått en grundskollärarutbildning vid Dimokritio University i Grekland. Jag arbetade vid Keele University (Storbritannien) och Makedonia University (Grekland) innan jag kom till Sverige.
Min forskning handlar framför allt om utbildningspolicy på nationell och internationell nivå, och i jämförande studier:
Utbildningspolitik och styrning i Europeiska unionen, dess förhållande till nationell policy och den öppna samordningsmetoden
Utbildningspolicy, inkludering och jämställdhet, i nationella och transnationella sammanhang
Högre utbildningspolitik och internationalisering
Marknadisering och privatisering av utbildningen - sammanhang, processer och konsekvenser
Pågående forskningsprojekt
2018-2021: Internationalising Higher Education: Challenges and opportunities for Universities and academics in Sweden (Vetenskapsrådet, Projektledare: Nafsika Alexiadou)
2019- 2021: Going global: Swedish school companies and their international operations (Vetenskaprådet. Project leader: Linda Rönnberg)
2017-2019: Education transitions of Roma students in Sweden and Europe: Success against the odds (Umeå Universitet, Lärarhögskolan)
Tidigare projekt
2015-2017: Higher Education Internationalisation and Mobility (Horizon 2020. The EU Programme for Research and innovation Marie Skłodowska-Curie Actions Research and Innovation Staff Exchange. Project leader: Louise Morley)
2012-2015: Inclusive and Competitive? Working in the intersection between social inclusion and marketisation in upper secondary school. (Vetenskapsrådet. Project leader: Ulf Lundström)
Handledning för doktorander
Johanna Sundström – fältet: 'early childhood education and care'
Maria Lindgren – fältet: 'health and education policy in leisure time centers'
Tidigare doktorander
Anders Norberg - From 'blended learning' to learning onlife, Umeå University, 2017
Trang Vu - Logics and politics of professionalism: the case of university English language teachers in Vietnam, (Second supervisor) Umeå University, 2017
Phil Rigby – Becoming a secondary English teacher: Men constructing professional identities, Keele University (UK), 2014
Ron Sargent – Design and Technology: disjuncture between policy and practice?, Keele University (UK), 2014
Matthew Cochrane - Pupils' choices in their educational and career trajectories, Keele University (UK), 2014
Wynne Thomas – Competency Based Curriculum: The Student Nurses' Perspective, Keele University (UK), 2011
Jackie Waterfield – Post-registration learning in physiotherapy: Practice and Policy, Keele University (UK), 2006
Undervisning
Introduktion till det utbildningsvetenskapliga fältet PhD kurs, 7.5 hp
Teorier i utbildningsvetenskaplig forskning, PhD kurs, 7,5 hp
Utbildningspolicy i nationell och internationell kontext, Grundnivå/Magister, 7.5 hp
Övriga aktiviteter
Jag är en av två redaktörer för Education Inquiry, en internationell, peer-reviewed, open access-tidskrift som utges av Lärarhögskolan vid Umeå Universitet. Jag ingår i redaktionsrådet för två internationella tidskrifter: Research in Comparative and International Education, och Research in Education.
Sedan juli 2018 leder jag forskningsområdet Förskola och fritidshem vid institutionen för tillämpad utbildningsvetenskap.
Forskargrupper
Gruppmedlem
Forskningsprojekt